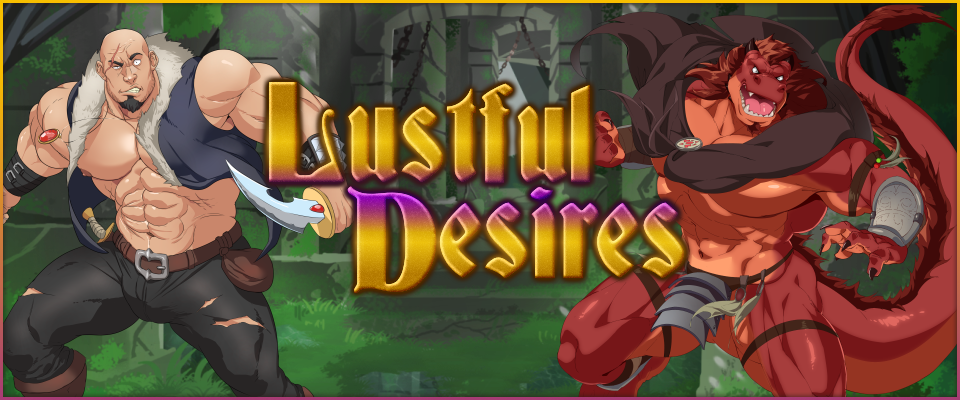 Lustful Desires
UPDATE 0.35.0
(Orgram's Challenges)
PART 1: CONTENT
Home
Crow – Message from the witch (Req: Iron Blood Village Unlocked, Finished nightmares with Nameless)
Nameless Visit (Req: Accepted or Refused help from the witch) ! Be careful during the encounter with him !
Wolbauk Training
Study Screen – Healing Salve added
Swamp
Witchhut:
Mind protection (Req: Seeing Crow at home)
Quest: Rat fur (Req: Accepted the witch offer, night witch)
Wasteland
Location
New options (Wolbauk fight, Item find)
Iron Blood Village
Location:
Start of the challenge (Req: Talk about trust with orgram again, then come back the next day)
Wolbauk's Pen – unlocks possibility to leave mounts here and also a new NPC, Roghak (Req: Doing the first challenge)
Explore the village – you can get kicked from the village if you do that before challenge, nothing after the challenge for now
Roghak:
Talk: Ask about him
Talk: Asking about wolbauks
Talk: Sick mounts (Req: Successfully treating the wolbauks in the pen)
Talk: Leaving mounts
Barter shop (For details look into changes and bug fixes part)
Private Tent:
A place to sleep and craft (Req: Finished challenges)
Orgram:
Broke the rule (If explored the village before finishing challenges)
Quest: Taming a wolbauk
Quest: Test of strength
Quest: Group challenge
Quest: Final test
Plains of Death
Location:
Explore
Path to the shrine (Req: Group challenge quest in progress or finished)
Dungeon:
Whole new dungeon with two levels (Including fights with vultures and harpies, some obstacles, treasures, camping with Groth)
Shrine:
Enemies:
Harpy (Male/Female)
Vulture
Wolbauk
Items (For details look into changes and bug fixes part):
There are more bows available
There are more arrows available
If during game you will see "WIP" it means Work in Progress and that part is still not finished.
PART 2: GUEST WRITER CONTENT
Dylan:
More options in Feeding Scrap talk
Second bath
Wisdom:
Sneak around the farmhouse (Req: Bottom Logan, chance to happen between 15:00 and 20:00 in certain days)
Make gloryhole great again! (Req: Normal Logan, even start when you sleep at farmstead. It needs around 14 days to complete, but you can speed things up with a few events: finding Lenny in Bareshade, asking Blake and Dulrig for help)
PART 3: VISUAL ASPECTS
Zoroj's addition:
Naked alt for Groth
Alternative expressions for Groth and Orgram
Gavel's background:
Forest Path background is finished
PART 4: CHANGES AND BUG FIXES
Barter:
New way of shopping – exchange items for other items. As some other races won't necessary use human coins, there's an option to barter now. It will be added to the lizard tribe with the acolyte that was exchanging stuff for earth moss, also the orc tribe will use this method as well.
Enemies:
Some enemies got an 'aerial' trait (Bats, Hortnets, new enemies in this update). Aerial units are more difficult to hit with melee weapon, encouraging to use ranged weapons. Some of those creatures have a skill that gave them 'fly' status. They can't be hit by melee weapon at all, but hitting them with ranged attacks gives chance to take down to the ground which deals additional damage. Bombs still works on those enemies.
Bandit, Barrel, Lizardman Warrior, Werewolf, Orc Brute, Northcrest Guard – Those enemies have some new actions during the battle (I used some of the ideas from a picture I've got for a birthday).
Items:
A small tweak to the amount of items that can be crafted with higher crafting skills
Arrows can be made in the workshop if the player knows the design
Bows have slightly increased damaged, but in cost of lowering the dodge. Most of the arrows got a trait that they lower the opponent's protection by half.
Some of the new stuff can be bought in the Northcrest, there's a new merchant in the marketplace.
Gunnar:
Gunnar and Caravan options in Bareshade are now only available on Monday, Wednesday, Friday and Sunday.
Some of Gunnar's dialog and talk options on the River Path have been updated to consider your past experiences with him and the bandit camp.
Others:
Some minor fixes here and there.
Files
LustfulDesires-0.35.3-linux.tar.bz2
408 MB
Sep 29, 2021
LustfulDesires-0.35.3-mac.zip
401 MB
Sep 29, 2021
LustfulDesires-0.35.3-pc.zip
435 MB
Sep 29, 2021
LustfulDesires-0.35.3-android.apk
418 MB
Sep 29, 2021