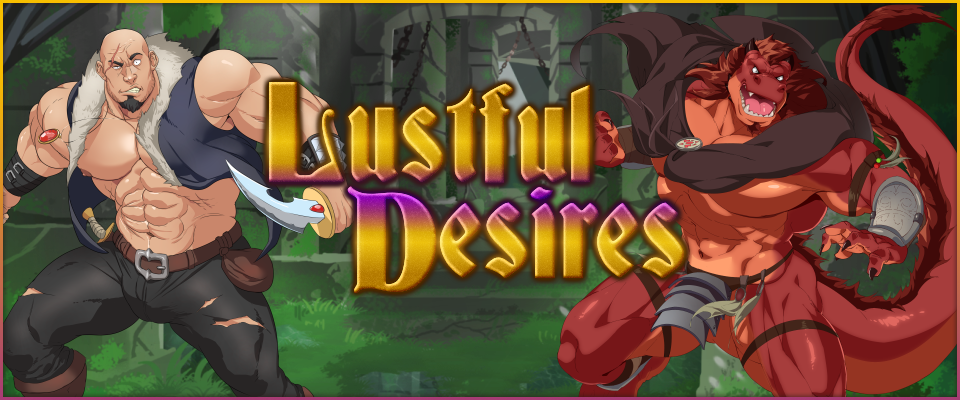 Lustful Desires
UPDATE 0.17.0
(Full Moon: Part 1)
PART 1: CONTENT
New Item/Recipe:
Werewolf Lure
Antilycan (Learned from the witch. In 0.17 it's not possible to craft it because of lack of one ingredient)
Hate Potion : Used in battle. Lowers the enemy attitude (Learned at home)
Insane Potion : Lowers sanity to min 10
New Equip:
Battle Axe (Found in the abandoned hut, during the day)
Diabosite Breastplate
Diabosite Bracers
New Quest:
Cure for lycanthropy (Witch - Night)
New Area:
Wolves Den – Forest (Unlocked by doing "Cure for lycanthropy" quest. Only fights here.)
Monster:
Brown Jelly (Forest Path)
Werewolf Alt (Higher stats than the standard version, different color)
Wolf Alt (Higher stats than the standard version)
Wolf – Pack Leader (Wolves Den)
Werewolf B (Wolves Den – Night, couple days after Werewolf Attack event)
Werewolf L (Wolves Den – Night, couple days after Werewolf Attack event) + Game over scene ! Not available in Logan bottom Route !
Home:
Bareshade:
Werewolf Attack (Req: Beast rumors done. Two Wolf's Bane have to be in the inventory. It happens from 21 to midnight when entering Bareshade. <! Doing that unlocks the rest of the werewolf/wolf new content. The event is more complex in Logan's normal route !>)
After werewolf attack (New conversations with people, some changes)
Outdoor fun (More options – farmers, two variations)
Hayden's Break (A small chance for it to happen when visiting hot springs after doing a quest with washing Arion)
River's Bank:
Vicoria's New Prisoner (Option to free the prisoner. His home is not unlocked yet.)
Ruin:
PART 2: MECHANIC
Home Improvements:
Workshop is a place where you can combine items to make other materials
Additional cells (Max 6 prisoners)
Reinforced cells (Needed for certain enemies, like werewolves)
Home:
Cutting trees (New option at home if Hatchet/Battle Axe is equipped, you can then make planks from wood in workshop)
PART 3: VISUAL ASPECTS
Zoroj made some new addition to the game:
Arion
Werewolf (Alt)
Werewolf (B)
Werewolf (L)
PART 4: BUG FIXES AND CHANGES
Shocking Bomb/Silver Bomb deals increased damage (Basic 15. Against vulnerable creature 30)
Smart MCs are getting a buff! From this moment Intellect is taken into consideration in two situations. For each 5 points of Intellect there's a 10% chance to craft 2 potions instead of 1. Also the efficiency of consumables (like potions or bombs) increase with intellect (starting from int 10)
Additional opponents: HP and Libido bars should animate like with normal enemies (I had to do changes in the code, there's a chance I missed something so there may be new bugs).
Wolves and werewolves are not appearing in the forest path anymore. Now brown jellies are there.
PART 5: OTHERS
Guide have more pages now, if you are stuck check this place first: GUIDE

You can obtain a sticker pack with characters from LD by using one of those links: Telegram , Signal
Other information:
Arion is written by : Arion
Hayden is written by : Arthien
Ste is written by : Wisdom
Contact information:
Files
LustfulDesires-0.17.1-linux.tar.bz2
174 MB
Mar 29, 2020
LustfulDesires-0.17.1-mac.zip
171 MB
Mar 29, 2020
LustfulDesires-0.17.1-pc.zip
188 MB
Mar 29, 2020