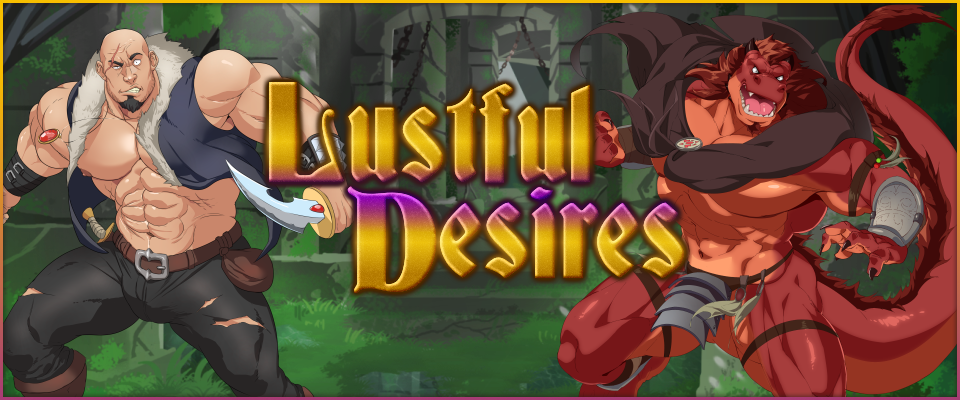 Lustful Desires
UPDATE 0.15.2
PART 1: CONTENT
Item/Recipes:
Sleeping Mist (Puts enemy to sleep. Sleep last three turns, unless opponent was attacked)
Rodent's Lure
Ruin:
Bad/Good End (Leading to total lusty chaos or happy tribe)
Rhot (Talk option)
Swamp:
Spying on lizards (Exploring Corrupted Lake)
Bareshade:
Logan x Blake (Mine, Slutty Logan)
Barrel (Love Potion – when approaching him in the bar)
Arion ("Bad" Ending, New option for female character during sparring)
Home:
Roushk (Prison – He still need to be taken him to the Priestess to continue the story. After bad ending he can be brought back. The fight with him can be repeated then.)
Wererat (Prison – Can be caught using Rodent Lure)
Bernard's visit (If Korg was invited)
Orc (Flavor text when he chase the bandits away during night attack)
Chibi Orcs:
There are six chibi orcs hidden in game. You will receive a small gift if you click on it. Enjoy your holidays!
PART 2: VISUAL ASPECTS
Art made by ZoroJ, Background made by Gavel:
Scene: Roushk/Othra (Good and Bad ending)
Background: Ruin
PART 3: BUG FIXES AND CHANGES
Horses are eating carrots now (Yes, Arion too). Carrots can be bought from Shopkeeper.
PART 4: OTHERS
Here you can find some basic information about the recipes and items.
If you have a telegram, you can obtain some stickers with characters from LD by using this link: Stickers
Contact information:
Files
LustfulDesires-0.15.2-linux.tar.bz2
93 MB
Jan 31, 2020
LustfulDesires-0.15.2-mac.zip
88 MB
Jan 31, 2020
LustfulDesires-0.15.2-pc.zip
105 MB
Jan 31, 2020