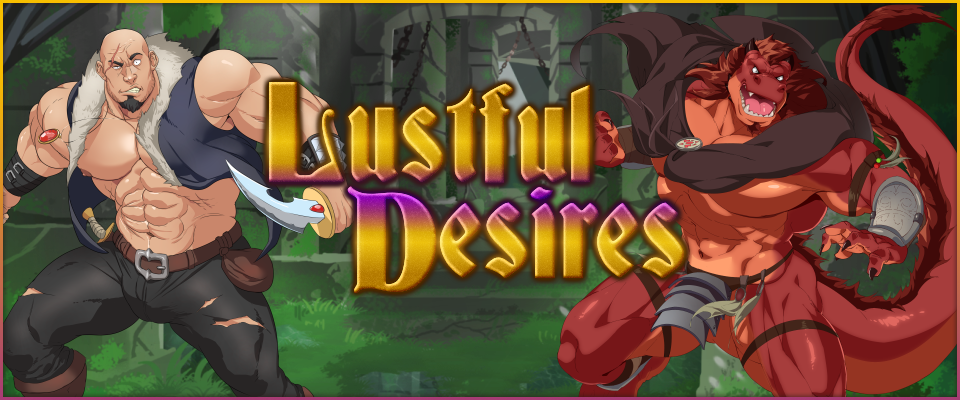 Lustful Desires
UPDATE 0.21.0
(Road to Northcrest)
PART 1: CONTENT
New Recipe/Item:
Exploding Bomb
Water Bomb
New Location (Including new enemies, events, quest):
Northcrest Road
Northcrest Main Gate
Fishing Village
New Enemy:
Northcrest Guard
Murcad
Boss Fight: Guard
River's Bank:
Gunnar (New conversation)
Torben (New conversation)
Comforting conversation (Feliar, daily)
Bareshade:
Bringing back a friend (Continuation of the werewolf event, check event log for more info)
New repeatable quest for certain NPCs (Rose)
Tea break (Daily conversation with Rose. Req: 20 like, Werewolf event finished)
New place: Old barn (Caleb)
Ruin:
Training with lizard warriors (Req: Good lizard ending, Rhot sparring done, daytime)
Training with Roushk (Daily conversation)
Xer's / Roushk conversation (At night, appears after a week in game passed)
Xer's Hideout:
Visit while naked
Xer's path (Appears after a week in game passed)
Info:
Northcrest event / Caleb event are included in the quest log
Caleb event requires three hearts from Bernard (How to get them are described in the quest log too)
PART 2: VISUAL ASPECTS
Zoroj made some new addition to the game:
There are some stuff from Gavel too:
New background used for Dark Swamp / Misty Abyss
PART 3: BUG FIXES AND CHANGES
In Bareshade there is separate entrance to the underground or stable (You don't have to go through bar)
It's possible to sell 'Vine of Swamp' and 'Lizard Scale' to the night witch.
Fixed bug that made the player always hit the target
Some small tweaks here and there.
Files
LustfulDesires-0.21.3-linux.tar.bz2
256 MB
Jul 30, 2020
LustfulDesires-0.21.3-mac.zip
256 MB
Jul 30, 2020
LustfulDesires-0.21.3-pc.zip
273 MB
Jul 30, 2020
LustfulDesires-0.21.3-release.apk
372 MB
Jul 30, 2020